18/11/2021
Award-winning entries for Ayia Napa Marina at world-renowned European Property Awards 2021-2022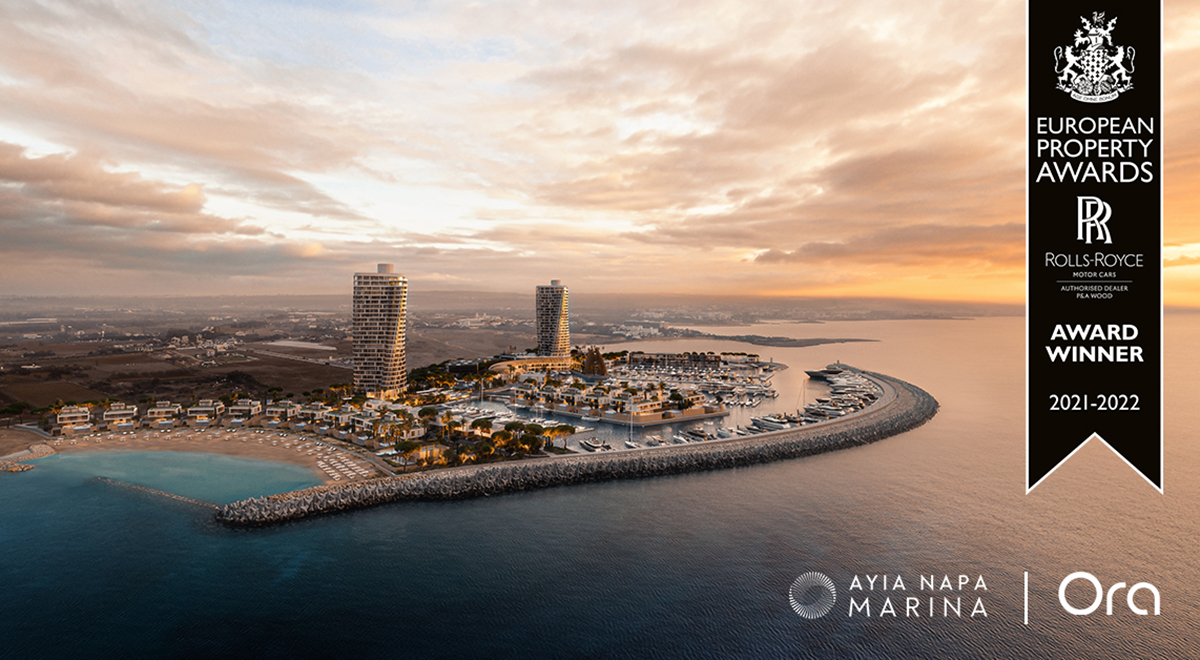 Ayia Napa Marina, the iconic mixed-use development which perfectly captures the concept of beachfront living, has received two distinctions at the world-famous European Property Awards 2021-2022. More specifically, Ayia Napa Marina is an award winner in two categories; Mixed-Use Development and Residential High-Rise Development.
The first official participation of Ayia Napa Marina in the European Property Awards highlights the project's exceptionally high standards, expected to showcase Cyprus abroad as a quality tourism destination. It is worth noting that the flagship project has been realised by a team of world-renowned architects and engineers, utilising cutting-edge technology, with an emphasis on innovation and superior quality. The multi-award-winning SmithGroup, boasting a long-standing presence in the world of architecture and engineering since 1918, has undertaken the project design, while the project architecture and engineering has been undertaken by the distinguished J&A Philippou.
Ayia Napa Marina CEO, Stavros Caramondanis, emphasises: "This double distinction given to Ayia Napa Marina constitutes a great honour for those who envisioned and managed the project, who worked passionately for the creation of a development of such magnitude, now synonymous with elegance and modern design. Our participation in the European Property Awards is a culmination of collective efforts to offer a stylish and upgraded experience in the Eastern Mediterranean."
The independent European Property Awards panel of judges includes over 80 industry experts. Judging focuses on design, quality, service, innovation, originality, and commitment to sustainability. The European Property Awards constitutes the largest, most prestigious, and widely recognised programme of its kind, while businesses and industry professionals partake in the annual competition to establish themselves and gain recognition in international markets. Awards are given in the following categories: architecture, property development, interior design and real estate, in nine regions spanning Africa, Asia, Arabia, Canada, the Caribbean, Central and South America, Europe, UK, and the USA.
It is worth noting that the official European Property Awards ceremony will take place online on 2 December 2021. Results and the level of the awards given to Ayia Napa Marina will be officially announced during the upcoming event, expected to receive extensive coverage.