07/03/2018
Ayia Napa Marina signing of agreement initiating second phase of works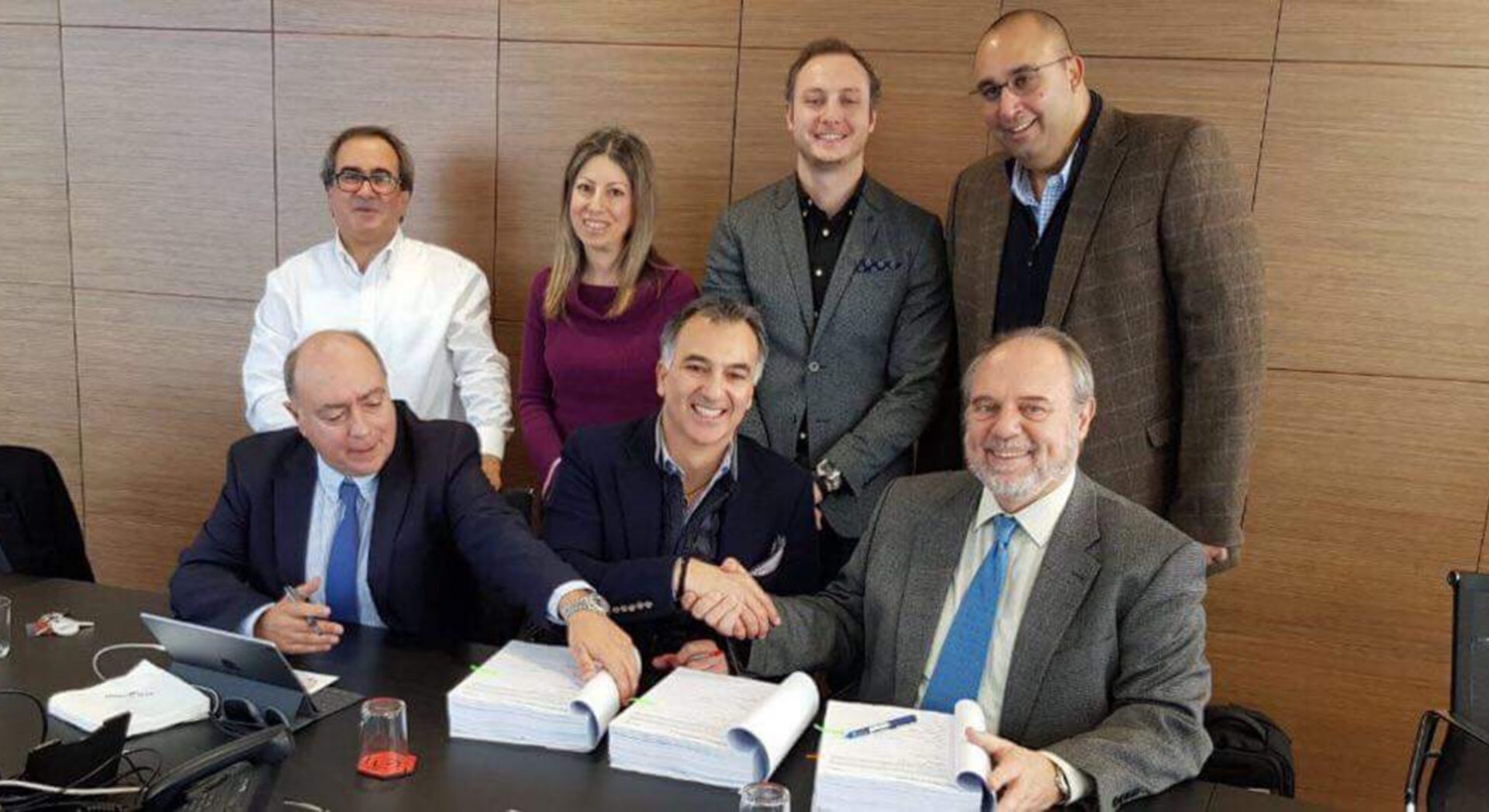 Signing of agreement initiating second phase of works
MM Makronisos Marina Ltd announces the signing of an agreement for the second phase of construction works at Ayia Napa Marina with TERNA S.A. and TERNA Overseas Ltd, experts in the execution of public and private large-scale projects requiring complex technical expertise.
The contract was signed on February 2nd 2018 by Stavros Caramondanis, CEO of MM Makronisos Marina Ltd, as well as Thanasis Papadopoulos, Technical Director of TERNA Overseas Ltd, and Manos Vrailas, Executive Member of the Board of Directors of TERNA S.A. The agreement concerns the residential and commercial developments of the project.
Overall, the construction development of the Ayia Napa Marina includes two impressive towers of unparalleled architecture – over 100 meters tall – with 190 apartments and 29 luxurious villas, some of which will be located on an artificial island, coupled with a variety of infrastructure for commercial and recreational use by the wider public.
In the meantime, the first phase of works for the Ayia Napa Marina involving the construction of the port and infrastructure – which began in September 2016 – is continuing as normal within the set timeframe.
Not just a simple real estate development project, the Ayia Napa Marina is an international magnet for the most demanding buyers seeking luxury living and relaxation. The Ayia Napa Marina aspires, upon completion, to upgrade the character of the wider region while acting as a driving force for further developments.
Information about the project
Ideally located between the beaches of Ayia Thekla and Makronisos, the Ayia Napa Marina will offer 190 spacious luxury apartments in two impressive towers, 29 luxury villas, a marina with significant mooring capacity and world class facilities for 600 yachts, a shipyard, and a series of select shops and restaurants offering top class services and amenities for those living in, and visiting, the marina.
About ΜΜ Makronisos Marina Ltd:
MM Makronisos Marina Ltd is a member of the Caramontani Group of Companies, the largest company undertaking H/M works in Cyprus, and the Egyptian entrepreneur and investor, Naguib Sawiris.
About ΤΕΡΝΑ Α.Ε.:
ΤΕΡΝΑ was founded in 1972 and has since been active in the execution of a wide range of public and private large-scale projects requiring specialist expertise, including road and rail networks, ports, buildings, hospitals, museums, industrial installations, hydroelectric projects, dams and more.