18/03/2019
Diplomatic Delegation visits Ayia Napa Marina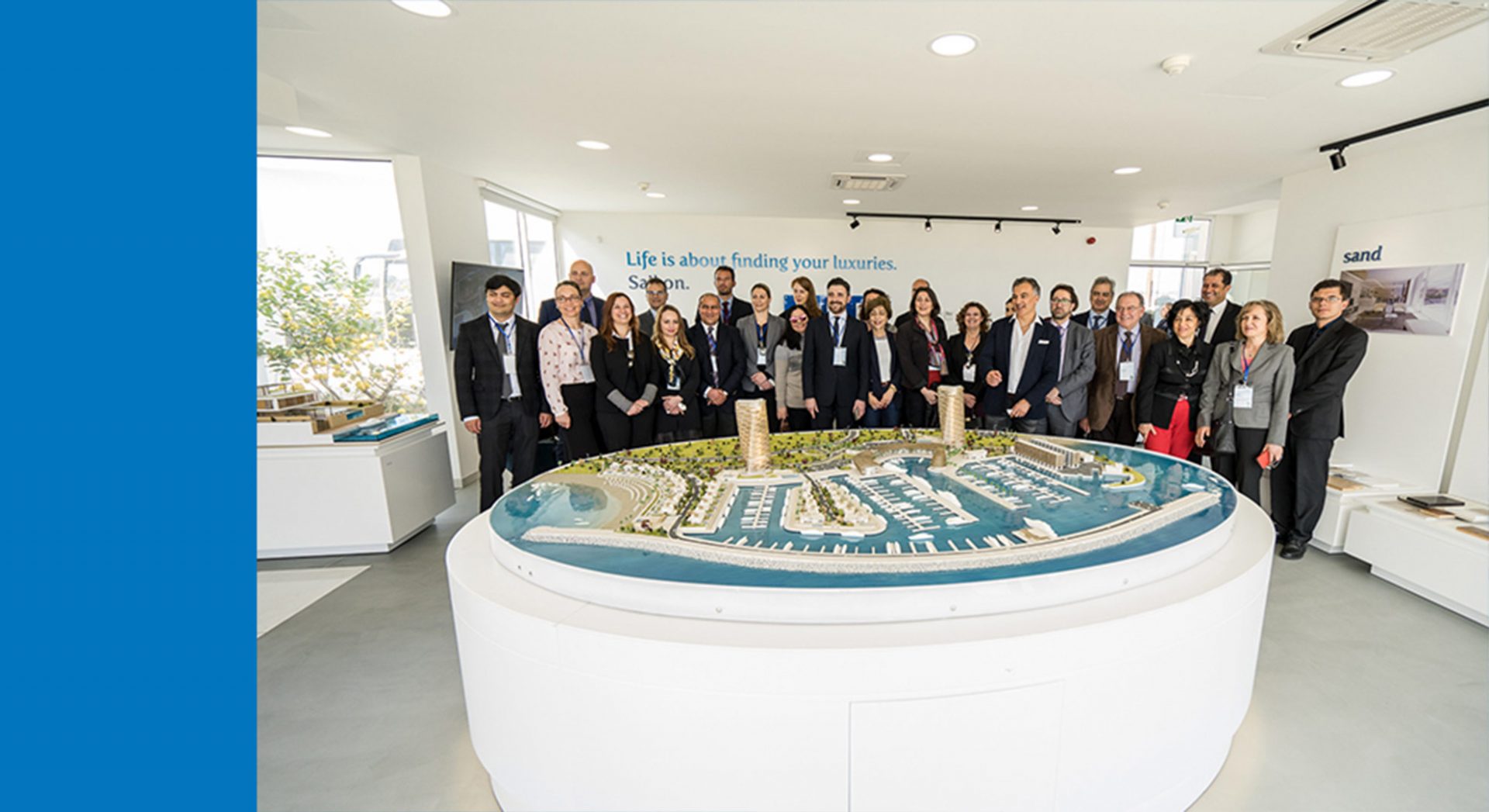 Diplomatic Delegation visits Ayia Napa Marina
International diplomats, comprised of financial and commercial representatives from various foreign embassies in Athens, in collaboration with the Enterprise Greece organization under the auspices of the Embassy of Cyprus in Athens, visited the construction site of the iconic Ayia Napa Marina on March 15th, 2019. The visit took place within the framework of a wider initiative to enhance and promote business opportunities in Cyprus.
The high-profile visitors were welcomed by Stavros Caramondanis, CEO of M.M Makronisos Marina Ltd, who also conducted a tour of the construction site while highlighting the importance of Ayia Napa Marina in the reinforcement of nautical tourism in the eastern Mediterranean, and the contribution of the project to the upgrade of the Cyprus tourism product, attracting quality tourism throughout the year. Caramondanis pointed out: "Ayia Napa Marina is a unique project, not just for Cyprus but for the whole of Europe, with innovative technology used for the construction of both the marina and other areas on the grounds. This important project has already gained international recognition, exemplified by increasing interest from buyers and investors around the world. To date, 75% of the Ayia Napa Marina East Tower has already been sold and we are witnessing increased interest, mainly from Russian, Middle Eastern and Asian markets."
During the tour, diplomats were given the opportunity to witness the significant development of the project, with the first phase of infrastructure almost complete (barring the complementary and final embankment), while the precast concrete units, produced by two dedicated batching plants near the site, are in their final phase of construction. The South Breakwater is at full length, with a few precast concrete units left to be installed. The Roadway superstructure is almost complete, while the foundations for the breakwater road and all roadworks progressing at a fast pace. The delegation was greatly impressed by the main and commercial area buildings which are now clearly visible. The construction of the chandlery, administration and government buildings are also moving full speed ahead.
The diplomats who attended the event concurred that Ayia Napa Marina deserves to be hailed among the most ambitious projects in Cyprus and the Eastern Mediterranean, and were given detailed informative material regarding recent developments, and the final look of this impressive project.