14/02/2023
Are you the one? meet us at Ayia Napa Marina's Career Open Day!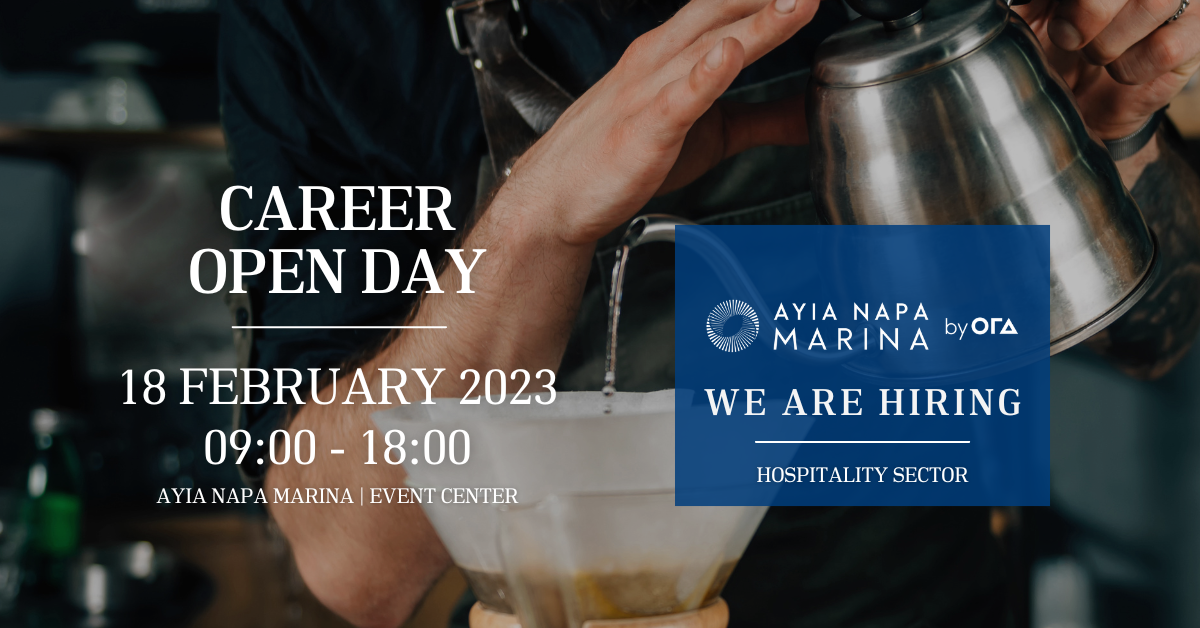 People all over Europe and Cyprus are already looking for jobs in Ayia Napa for the fast-approaching summer season. Still, most are unaware that they shouldn't wait that long, especially when it comes to hospitality jobs and career permanency.
One of the island's most elegant and luxurious places for dining, entertainment and leisure, Ayia Napa Marina, doesn't rely on the high temperatures of the tourist season to attract both customers and employees. It operates all year round, unheard of for the area, basing its success on the high quality and memorable experiences it provides to locals and visitors alike, aiming for the crowd that seeks world-class enjoyment and high standards above all.
But the renowned Marina isn't just attracting customers. Recently certified a Great Place to Work in Cyprus, it is considered an excellent working environment for employees looking to have a career in hospitality. Last year, it organised a Career Open Day with great success, where people had the opportunity to jumpstart or continue their professional journey at its first-class restaurants.
This year, Ayia Napa Marina returns with another Career Open Day, targeting chefs, bartenders and professionals in the hospitality sector, on Saturday, February 18, from 9 in the morning until 6 in the afternoon at its spectacular Event Center.
The Career Open Day is open for people who wish to work in high-end restaurants in the likes of the fine-dining L'Atelier Robuchon that bears the 32-time Michelin-awarded Joël Robuchon's signature, Le Deli Robuchon, a casual, sophisticated, all-day dining deli that offers breakfast, brunch, cocktails and dinners, and the selective Sushi Yama, a Japanese cuisine restaurant that provides an experience like no other on the island.
The attendees, who should have career advancement as a prospect, are keen to thrive and have a teamwork spirit, will have the opportunity to be part of one on one on-the-spot interviews and orientation, browse through all the job openings, get candid answers in person to any question they might have, and meet the restaurant's vibrant teams. The greatest benefit of all, they can book their position on the spot following a successful interview.
The current vacant positions are Demi Chefs, Pastry Chefs, Bakers, Sushi Chefs, Restaurant Managers, Guest Relations, Bartenders, Waiters, Bussers & Hostesses.
If you are looking to find a job in Cyprus at one of the best restaurants in Ayia Napa and the island, there's no need to go through the exhausting and detached process of applying online.
Meet us at Ayia Napa Marina's Career Open Day for a day full of connections, experiences and a beautiful start to a successful career in the hospitality industry.
Save the date!
Saturday 18 February 2023, 09:00-18:00
Event Center, Ayia Napa Marina
52, Ayia Thekla Avenue, 5330, Ayia Napa
Tel.: (+357) 23 300 504 & 23 330 571
Explore more here.