17/05/2022
A sneak peek at a life of luxury within a high-rise apartment at Ayia Napa Marina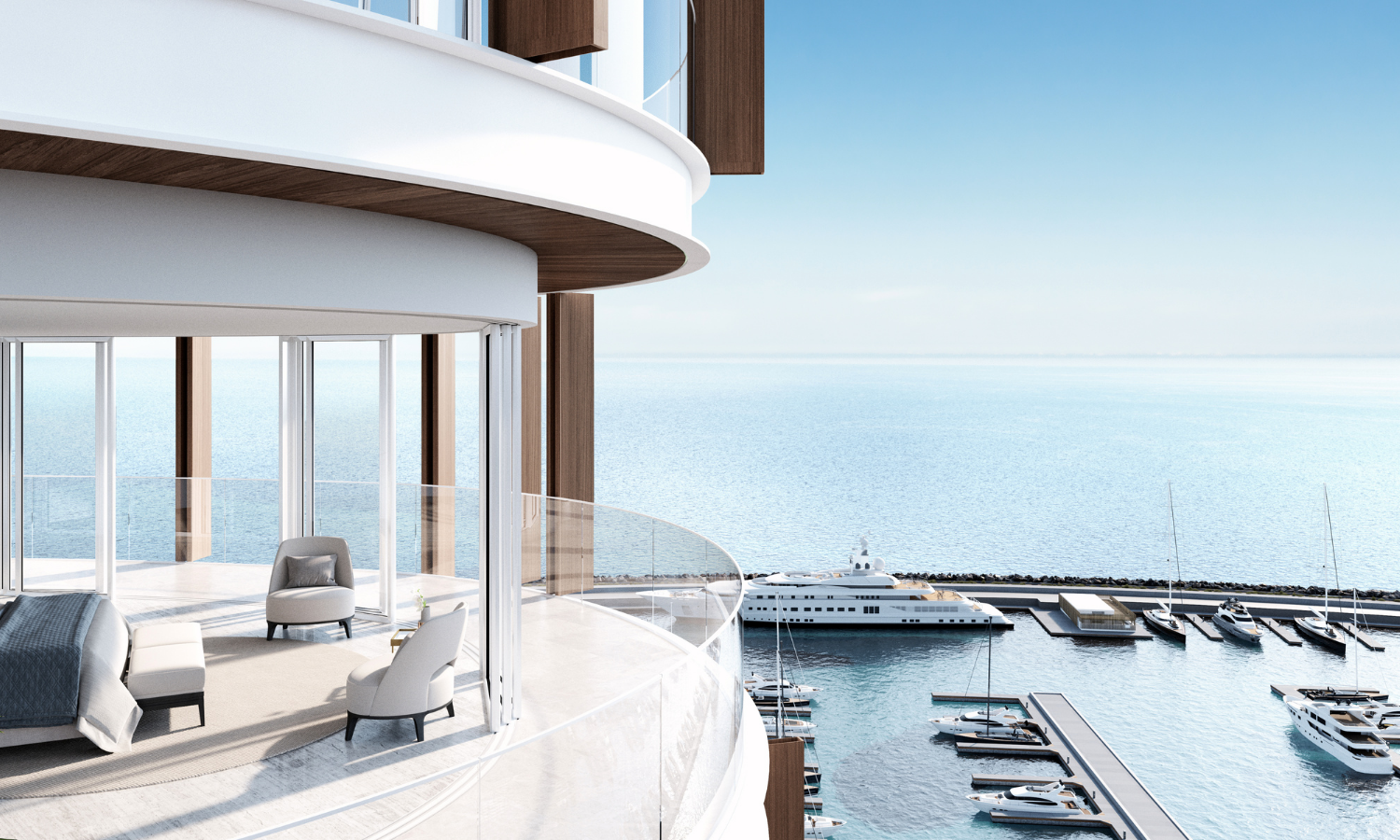 The glamorous appeal of living in a high-rise apartment is undeniable. You can wake up to panoramic views, enjoy a world of amenities at your fingertips, and indulge in all the modern lifestyle comforts you could wish for. But more than that, a high-rise apartment is the ideal place to retreat away from it all. A luxurious escape where you'll quite literally feel as though you are reaching for the skies.
From LA to London, Dallas to Dubai, luxury high-rise living is always high in demand. And with Cyprus now regarded as a hot spot for luxury buyers, the past few years have witnessed a tremendous boom in glamorous high-rise construction. Recently, the iconic Ayia Napa Marina has become a true talking point as two unique twisting towers, rising over 100 metres, command attention.
Cyprus' one-of-a-kind twisting towers 
Ayia Napa Marina has placed Cyprus on the international architecture map with the construction of the very first twisting towers on the island. The extraordinary modern technique, which gives the impression of 'rotation' around a central axis, has gained great popularity in Europe and the Middle East ever since the world-famous Santiago Calatrava designed the renowned 'Turning Torso' building. The Ayia Napa Marina towers have already been featured on the list of the world's 34 twisted buildings, while the project itself has been awarded in two categories at the European Property Awards 2021-2022, distinguished as a 'mixed-use development' and 'residential high rise development'.
The East Tower is located in the marina's commercial hub, offering a vibrant and bustling environment for its residents and visitors. The West Tower is located in a more tranquil area of the development. The two T-shaped towers rotate approximately 1.6 degrees per floor, from west to east, and are visible from both land and sea. For anyone choosing to reside in a high-rise apartment, panoramic views of the Mediterranean, the marina, and the surrounding coastline are a dream come true.
All eyes on the East Tower high-rise apartments
Following the recent conclusion of cement works, the stunning East Tower high-rise is scheduled for completion in early spring 2023. Having attracted great interest from investors and buyers, 90 per cent of the apartments for sale have already been purchased. The twisted building, subcontracted to Terna S.A and designed by J & A Philippou architects & the civil engineers A. J. Pericleous, comprises 95 spacious luxury one to four-bedroom apartments and penthouse apartments on the two top floors with 360-degree views.
The apartments are uniquely shaped to ensure that all living spaces, including bedrooms, are orientated towards the water and adjacent beaches. The modern and smart open plan design maximizes daylight and takes full advantage of the magnificent views. The living rooms feature glass doors, specially designed to open onto and connect living areas with the covered veranda. All apartments have been designed in accordance with high-quality technical specifications, taking into account the highest standards of modern architectural design, comfort, durability, and functionality.
A truly elevated quality of life 
While every high-rise apartment has been thoughtfully and meticulously designed to offer everything buyers could dream of in the utmost comfort, there's also much to enjoy outside the apartment door, including a wide array of tower services and facilities. The third floor will feature a gym and spa facilities, a swimming pool and deck, cabanas, and an outdoor bar with views across the marina and the endless blue. The building also boasts a spacious lobby area with an abundance of natural light where residents can welcome guests or just kick back and relax before embarking on the day ahead.
Commanding a premium location in the heart of Ayia Napa Marina, you won't have to worry about entertainment or dining options either. Life here is bursting with choice and is to be savoured and enjoyed at every moment. Just take a stroll near the water's edge, and make the most of sea-inspired living within lively surrounds featuring select retail boutiques and dining and entertainment options. From cafes to fine restaurants, you're utterly spoilt for choice.
Satiate the taste buds in style at L'Atelier Robuchon, enjoy a more casual bite at Le Deli Robuchon, indulge in a caffeine fix at Coffee Berry, or soak up the Mediterranean vibe at Riva Beachouse. And when you are ready to call it a day? You'll be on cloud nine once you retreat into your very own luxury high-rise haven.
Contact the residential sales department, for more information.
Найдите свою Недвижимость