26/01/2023
Career Open Day at Ayia Napa Marina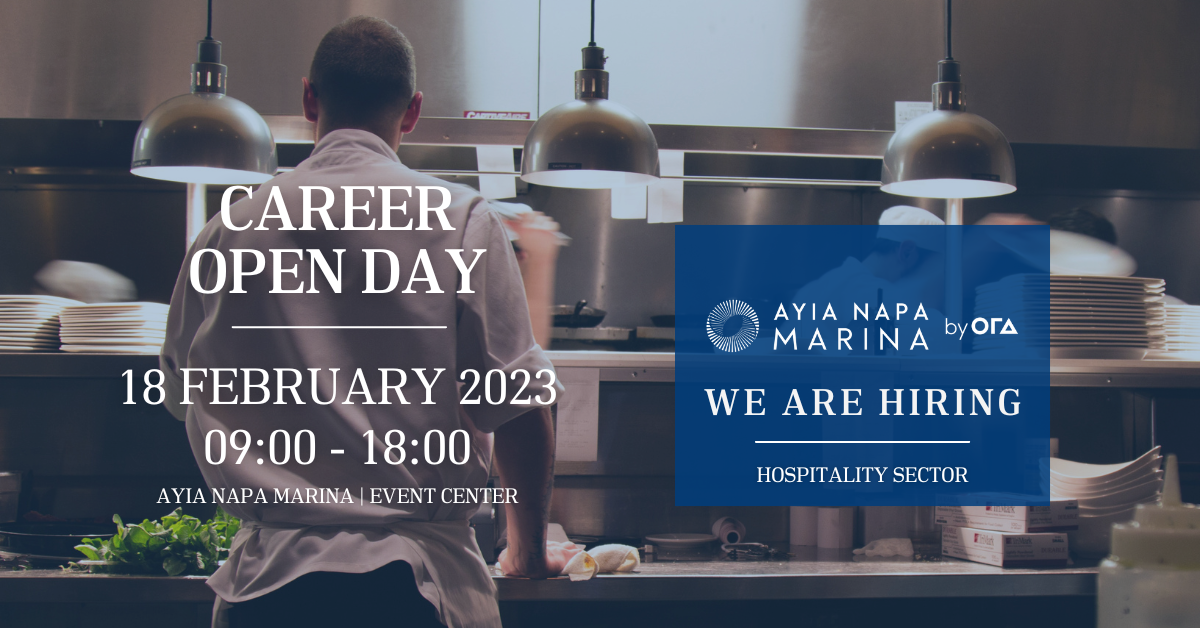 Are you a chef, a bartender or a professional in the hospitality sector and currently dreaming of a career opportunity at a restaurant of a famous chef with many Michelin stars under his belt? Do you have the skills and experience to take charge of a popular Japanese restaurant on the island's ultimate hotspot? Following last year's success of the first Career Open Day, Ayia Napa Marina returns with plenty of job opportunities in hospitality for people who want to discover their next career path at Ayia Napa Marina's commercial village.
On Saturday, February 18, from 9 in the morning until 6 in the afternoon at Marina's Impressive Event Center, the available job opportunities in the hospitality industry will be revealed. The world-class L'Atelier Robuchon that bears Joël Robuchon's stamp, a chef awarded with 32 Michelin stars, Le Deli Robuchon, a casual, cosy and charming delicatessen for any hour of the day, and the refined Japanese cuisine restaurant Sushi Yama.
The successful candidates will not only have the opportunity to work at some of the island's most popular and in-demand hospitality venues, but also build a lucrative career with growth prospects at a marvellous working environment among local and international hospitality sector professionals.
Job seekers can discover and apply for positions ranging from pastry chef or busser to commis and many more, including the role of Manager at Sushi Yama. Meanwhile, job seekers and visitors alike will get to meet the restaurants' staff in person, as well as the managers who will share the philosophy of each of these restaurants, focusing on the importance of working for an iconic project in the likes of Ayia Napa Marina.
ELEVATE YOUR CAREER IN THE HOSPITALITY INDUSTRY NOW
If you are the one who is interested in joining a vibrant team of hospitality professionals, now is the time to apply for one of the following positions:
L'Atelier Robuchon & Le Deli Robuchon, Cyprus
Pastry Chef
Head Bartender
Demi Chef de Partie
Waiter/Server
Waiter (April-October)
Bartender/Barista
Bartender/Barista (Seasonal)
Commis
Commis (May-October)
Commis 2 (May-October)
Busser (Seasonal)
Hostess (Seasonal)
Sushi Yama, Cyprus
Restaurant Manager
Sushi Chef
Kitchen Assistant
Waiter/Server
Busser
Bartender/Barista
Hostess
You can also send now your updated CV to [email protected] mentioning the title of the position in the subject line.
OR 
Download, complete and send the Ayia Napa Marina Hospitality Application Form to [email protected] mentioning the title of the position in the subject line. Click here to find the application form.
For more information, those interested can contact the company's Human Resources Department via phone at +357 23 300 504.